Malaga Arrivals
Airport: Malaga Airport
Infomation: Flight Arrivals
Airport Code: AGP
This page provides lots of useful information about Malaga Airport Flight Arrivals. From useful information about the procedures and baggage collection right through to a free widget to check the very latest flight information for the airport.
Flight Arrivals
Once your flight lands at Malaga Airport it will taxi to one of the holding areas so that passengers can depart the plane. Most of these are access via a covered walkway which is attached to the aircraft upon arrival. However, there are some flights that still require you to either exit the plane and walk to the terminal building or in some cases, you board a bus to take you to the terminal.
Once you are on the terminal building upon your arrival, you have a fairly long walk to the passport control and baggage areas. There are moving conveyor belts along most of this section until you get close the the passport control.
When you arrive at the passport control area you will be required to show your passport. Non EU residents will have already been asked to fill in the necessary forms on the aircraft itself.
Once through the passport control you will go downstairs to the baggage reclaim and customs areas. There are a number of screens detailing which belt corresponds with your flight.
Once you have collected your luggage (hand luggage only will not need to stop at the luggage reclaim area), you follow the signs 'salida' to go through the Malaga Airport Arrivals hall where you will see people waiting to meet passengers. This is also where you will most likely meet any car hire representatives, although there are some desks located before you enter the arrivals hall.
Check Live Malaga Flight Arrivals
You can use the special widget below to check the live status of flights due to land at Malaga Airport.
The Arrivals Area
There are some images below so you can familiarise yourself with the layout of the arrivals hall and immediate area once you exit the terminal building.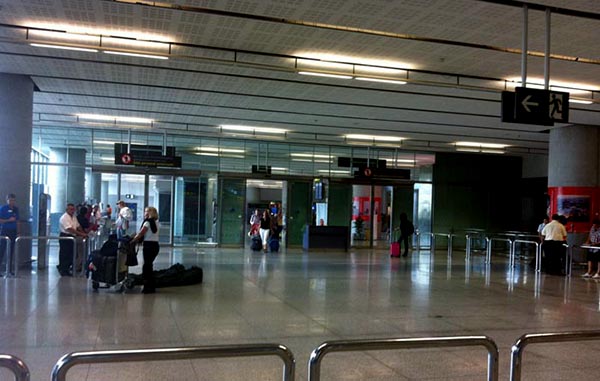 Directly outside of the flight arrivals hall is a cafeteria, the bus stops, the courtesy coach area and the taxi's. Across the road you will find the railway terminal for Fuengirola bound trains and Malaga city centre bound services.
Above the arrivals area on the upper floor you will find a selection of shops and cafeterias including a Starbucks coffee shop and a Burger King Whopper Bar.