Malaga Airport
Airport Name: Malaga Airport or as it is also now known as officially, Malaga-Costa del Sol Airport
Airport Code: AGP
Telephone Number Malaga Airport – +34 913 21 10 00
Information on Disabled Facilities at Malaga Airport – +34 952 048 649
Address: Avenida Comandante García Morato, s/n, 29004 Málaga, Spain
This is the website for all the latest information about Malaga Airport on the Costa del Sol. This guide is designed to provide you with lots of useful and up to the minute information about the airport, how to get there from different parts of the Costa del Sol and of course tons of flight information.
Malaga Airport serves the entire Costa del Sol and is in fact one of the busiest airports in Spain. a few years ago it underwent an expansion and the new Terminal 3 was opened which now houses the majority of check-in desks and departure lounges.
The new terminal 3 is a modern glass building and is where you will need to go to after checking in so that you can go through security. Also all arrivals now come in to the new terminal building.
The upper level at Malaga Airport is where you will find all the check in desks with a few still in the old terminal 2 building (EasyJet and Ryan Air for example). The lower level is where you will find the arrivals lounge so if you are meeting a passenger, whether it is a domestic or international flight arrival, this is where you will need to wait.
Some official information about Malaga Airport that you might find useful;
The full name of Malaga Airport is now officially Malaga Costa del Sol Airport with the international airport code AGP. It is located a short distance from the city centre of Malaga which is accessible via the train service just outside the terminal, bus or taxi.
Facilities at Malaga Airport
As you would imagine there are a number of important facilities at the airport both on the public side as well as the departures side. Malaga Airport was one of the first locations on the Costa del Sol to get a Starbucks Coffee area and luckily this is located on the public side and available to all visitors to the airport. Also on this side, before you go through security, you will find a Whopper Bar (a deluxe Burger King area), luggage shops, a pharmacy, more snack bars, and shops to buy magazines and other travel essentials. There are also a few cafés downstairs by the arrivals hall as well as a tapas bar just outside the main doors to the airport.
List of the main bars and restaurants at Malaga Airport:
Public section of the airport
Starbucks Coffee for hot and cold beverages, sandwiches, snacks and cakes
Caffeé Ritazza for hot and cold drinks and small selection of snacks and cakes. This is located in the old terminal 2 building.
Café and Té again offering much the same as the above
Haagen Dazs for ice-cream
Café and Tapas for hot and cold snacks and a selection of drinks.
Gambrinus located outside arrivals hall serving tapas and drinks.
Passenger Only Section of Malaga Airport
Caffeé Ritazza (see above for description)
Haagen Dazs
Soho Coffee Co for hot and cold drinks and snacks
Starbucks Coffee
Uppercrust for sandwiches and baguettes
Dehesa Santa Maria specialising in special Spanish hams and cheeses.
Four Arrows bar drinks (including Guiness) and snacks.
Burger King
Dani Garcia Deli Bar for Michelin Star inspired food by Dani Garcia Marbella's Michelin Star chef
Mums Kitchen for hot and cold meals.
O'Learys Pub
Seafood Bar for a selection of fresh seafood and classy wines
The lifts and escalators to the lower floor are located just behind Starbucks. This will take you directly down to the arrivals area.
Journey Times From Malaga Airport:
To the centre of Malaga by car your journey should be around 20 minutes (maybe slightly longer in July and August due to more traffic on the roads). Just across from the arrivals areas at Malaga Airport there is a train station where you can get regular trains to Malaga centre or even out to Fuengirola in the other direction. A train to Malaga centre from the airport should take around 10 to 15 minutes and to Fuengirola about 20 minutes.
Western Costa del Sol resorts: To Torremolionos journey time by car is about 15 minutes. To Benalmadena allow 25 minutes, to Fuengirola 30 minutes, to Marbella 50 minutes, to Puerto Banus 1 hour and Malaga Airport to Estepona about 75 minutes.
Eastern Costa del Sol resorts: To Rincon de la Victoria allow 40 minutes, Torrox allow 50 miuntes and to Nerja 1 hour.
Taxi Rank Malaga Airport
The main taxi rank serving Malaga Airport is located outside of the main arrivals area to the right. There is normally a queue to get a taxi but it does seem to move quite quickly as there is a constant flow of taxis coming and going.
If you are being dropped off by taxi then please note you will be taken to the main departures areas on the floor above as there is a drop off area.
If someone is driving you to the airport then again you are able to use the main drop off area (free literally to drop people off). It is a little side road just in front of the lane that takes you to the car parks on the upper level. If you are planning to pick someone up or take a little longer then you will need to use one of the Malaga Airport car parks.
The car parks are fairly cheap at the airport so if you are meeting people flying in you might be better off parking in the short term car park and walking across to the arrivals hall.
Some useful services you might want to make a note of are Malaga Arrivals & Malaga Departures where you can check on the live status of inbound and outbound flights. These services are provided by a third party and are taken from the live airport information that serves Malaga Airport.
Malaga Airport is open everyday of the year with multiple flights to and from many international destinations. It is therefore important to keep updated with the very latest flight information, much of which is detailed within the airport guide.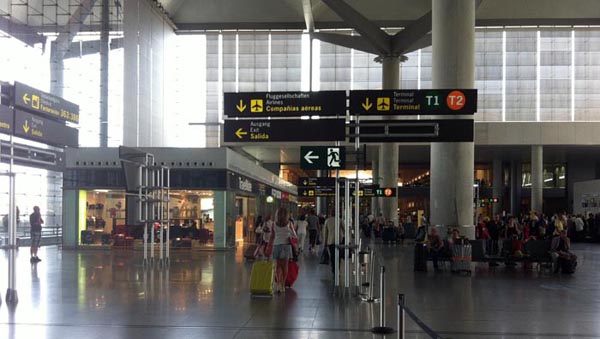 Access Roads To The Airport
Over the last couple of years there has been some major improvements to the infrastructure around Malaga Airport in terms of access to and from the airport. There is a new road layout for arrivals and departures so keep a close eye on the signs, which are actually very clear.
Passing Through Security at Malaga Airport
The security area is located at the far end of terminal 3. It has a series of barriers that will guide you to the screening area. You must show your boarding pass to enter this section and then follow the local instructions on what items need to be put into the trays for screening.
In the summer months of July and August this area can get quite busy and although you will still go through fairly quickly, you should consider allowing extra time just in case of hold ups and delays.
Passport Control at Malaga Airport
You will not need your passport until you are heading to your actual departure gate, once it has appeared on the screen. As you leave the main departure lounge there is a passport control area.
When you arrive at Malaga Airport from overseas, the passport control is at the end of the walk from the plane just before you get to the luggage collection area.